This child theme works up to ClassiPress 3.6.1, it is not compatible with ClassiPress 4.x
AdSplash is a responsive ClassiPress 3.4+ child theme enhanced with new features that extend the ClassiPress theme on both desktop and mobile devices. Some of the features built into AdSplash include:
Mobile Responsive Menu
AdSplash features a new responsive menu that turns into accordion on mobile devices making this the most mobile friendly child theme for Classipress
Responsive Tabs & Accordions
AdSplash features an improved tab system that turns into accordion on mobile devices making this the most responsive, mobile friendly child theme for Classipress.
these tabs, just like the List-Grid layout design, use cookies to preserve the state of the last opened tab upon page refresh or closing the browser.
Recent ads (3rd tab) is presented by default to new visitors but this can be changed to a different tab ( there is an admin option built for this ).
the first (Welcome) home tab is best used as a description page which is great for SEO (you can edit it in admin, html editor is enabled so you can use both text and images)
Popular and Random ads front tabs can be disabled from admin for every visitor or only for the ones that use a mobile device.
Layout and Colors
AdSplash features multiple color variations (Orange, Brown, Cherry, Grey, Green, Navy) for you to choose from. You can also choose how you want your content to be displayed (Aligned to Left or Right).
List / Grid ad layout view:
the user can switch between List and Grid layout with a click of a button.
new site visitors are presented with grid layout by default but this can be set to list as well ( there is an admin option built for this ).
a site wide cookie is being set for the user to save the default selected layout, this way, the users will see the preferred layout design when they browse your site and even if they close the browser and come back later, the will be presented with the same design.
Search and filter by Location
The top search bar has a unique feature that allows users to search for ads in a specific location using radius search.
The City field is powered by Google Maps API and includes the options to either determine the user's current location using Geolocation or to autocomplete the location as the user types the first letters.
If City, Zipcode with Radius Search is too much for you, there's also an option to use any other custom field as a location.
Infinite scroll pagination
Besides default pagination that exists in Classipress, AdSplash has an optional pagination based on Infinite Scroll. Using this feature, visitors won't have to click on page links to navigate in category pages because its enough to scroll down and new ads (pages) are loaded on the fly using ajax.
This feature is optional, it can be enabled/disabled in AdSplash admin settings.
Support for Google Adsense between every 3rd ad
Now you can include an Adsense ad (468×60 recommended) after every 3rd ad on category pages.
Better yet (see bellow), these Adsense ads play well accross mobile devices.
Support for Google Adsense Mobile Responsive ads
AdSplash has support for Google's new Asynchronous code for Adsense which means Adsense ads won't break the Mobile experience anymore.
Sorting / Filtering ads
Category pages include a sorting / filtering ads option
Users can sort ads by:
Newest ads
Oldest ads
Last modified ads
Price – Lowest
Price – Highest
Most viewed ads first
Most commented ads first
Users can exclude following ads:
Ads without an image attached
Ads that were marked as sold
Ads that expired
Both ads that were sold and ads that expired
Related ads
Single ad pages are extended with a set of 5 random related ads from the same category.
Admin options framework
AdSplash has an options framework integrated so you can change some of the unique features present in this child theme.
Why are my thumbnail images stretched?
AdSplash child theme uses custom image dimensions which means you need to regenerate your existing thumbnails for this to look fine.
You need to install the Regenerate Thumbnails plugin and run it from WP-Admin – Tools
Where are the menu items / icons and how can I enable them?
Menu icons can be enabled for the Header menu (Primary Navigation) from within the Menu Editor just like in the screenshot bellow. Note the fa-home icon name in the title attribute.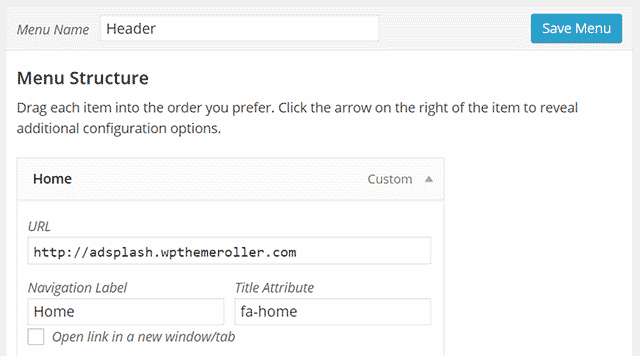 Valid icon names are the following:
fa-home
fa-twitter-square
fa-comments
fa-plus
fa-minus
fa-tags
fa-lock-alt
fa-unlock-alt
fa-pencil-square-o
fa-map-marker
fa-files-o
fa-folder-open
fa-rss-square
fa-cog
fa-clock-o
fa-random
fa-caret-square-o-right
fa-signal
fa-power-off
fa-asterisk
fa-bullhorn
fa-sitemap
fa-facebook-square
fa-gplus-square
fa-wordpress
fa-yelp
fa-user
fa-pencil
fa-envelope
fa-file-text-o
Installation:
Backup your existing Database and Classipress files to a safe place.
Upload the childtheme to your themes folder or upload the zip archive through WP-Admin – Appearance – Themes – Upload
Activate AdSplash Child Theme.
You may need to set your menus again. Go to WP-Admin – Appearance – Menus and activate your Header and Footer menu.
If you had a previous Classipress installation with existing content, your thumbnails may look stretched, you need to regenerate your thumbnails after childtheme activation: Please install the Regenerate thumbnails plugin and run it.
Support Forum
Note: I do not provide support for custom development of the Child Theme. I will generally answer such questions with guidance and even small code samples but do not expect me to do all your work.
1.0 – Initial Release
1.0.1 – Fixed issue with search button style.
1.0.2 – Fixed issue with header image (logo)
1.1 – Added a new options framework together with the ability to change layout (Aligned to Left or Right) and also two new colors for you to choose from. Make sure you save the new options from within AdSplash Options menu.
1.1.2 – Added Grey stylesheet and minor css tweaks.
2.0 – Added Location in top Search Bar and also in the ad meta. Added Green color.
2.0.6 – Small Bug Fixes
2.1 – Improved the top search bar, added city/zipcode with radius search powered by Google Maps API. Child Theme is now compatible with Classipress 3.5+ and WordPress 4.3+
2.1.1 Fixed small bug on older PHP versions.
2.1.2 Added backwards compatibility for Classipress 3.4+ and latest Wordpress for those who don't want to upgrade to Classipress 3.5.1, this fixes the password field issues for them.
2.1.3 Added a new feature to detect when a user is online and show their presence on ad meta, ad poster tab and author page.
Added navy color scheme.
Minor bug fixes that have been reported.
2.1.5 Added counter for uploaded images in the ad loop, fixed reported bugs.
2.1.6 Fixed missing Dashicons.
2.1.7 Fixed compatibility with Wordpress 4.5 and jQuery 1.12.3, Fixed responsive grid layout on iPhone 6s and Nexus 6P
2.1.8 Fixed the ad contact form to include recaptcha when enabled
17 reviews of "
AdSplash

"
Adsplash works very well, and is VERY beautiful!
You can see my site here:
https://www.luckydrones.com/
By the way, if you don't mind, once you are on my site, please be kind and click on one of the ads…thanks!
You need to purchase this item before reviewing it.
(Just bought it?
Log out
and back in to enable reviews.)