Redsys Gateway / Pasarela Redsys
English (Instrucciones en Español más abajo)
With Redsys you add the most used Gateway in Spain (about 98%) to any of the Themes in AppThemes.
Just install and activate it. Fill the settings provided by your bank and start selling.
Features
iupay! integration, a new Paypal-like Gateway by Redsys.
Test mode. Use your Redsys Sandbox account before starting to sell.
Log the plugin activity into a log file by adding just a line to your wp-config.php file.
Compatible with WordPress Multisite.
Available in English and Spanish.
Requirements
WordPress version required: 3.9
Works with any AppThemes Theme.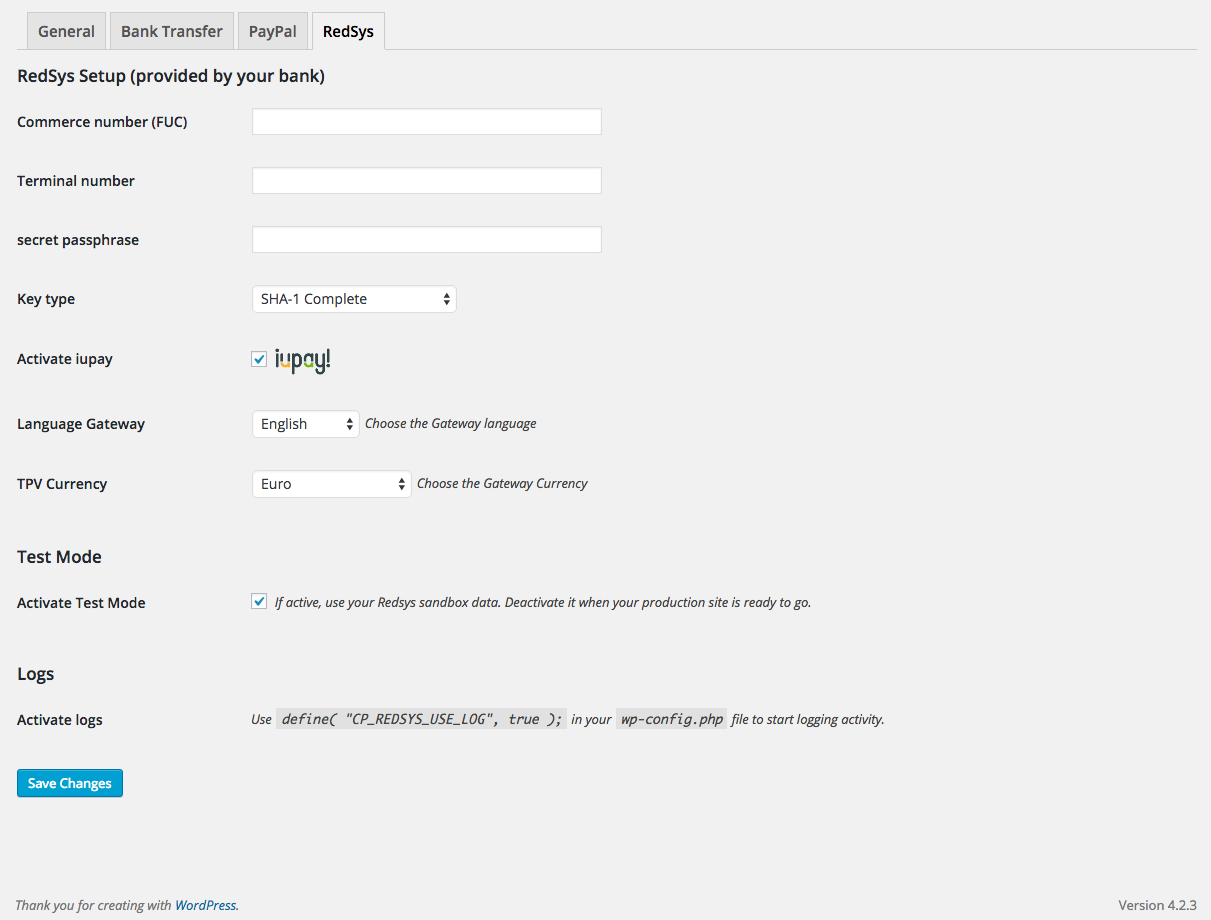 Español
Con Redsys podrás usar la pasarela de pago más utilizada en España (un 98%) con cualquier Tema en AppThemes.
Simplemente instala el Plugin y actívalo. Rellena los campos en la página de opciones tal y como tu banco te haya informado y empieza a vender.
Características
Integración con iupay! una nueva pasarela al estilo Paypal construida por Redsys.
Modo de pruebas. Usa tu cuenta de pruebas de Redsys antes de empezar a vender.
Registra la actividad del plugin en un fichero simplemente añadiendo una línea en tu fichero wp-config.php para una mejor depuración de errores.
Compatible con WordPress Multisitio.
Disponible en Inglés y Español.
Requerimientos
Versión de WordPress requerida: 3.9.
Funciona con cualquier Tema de AppThemes.
English
From WordPress
Install the gateway from plugins screen.
Activate it.
Go to Payments>Settings>Redsys settings and fill up the form.
Using a FTP
Download the plugin
unzip it
Use a FTP client
Go to /wp-content/plugins
upload the plugin.
Activate it
Go to Redsys Gateway settings and add all your Redsys settings.
Español
Desde WordPress
Instala el plugin desde la página de plugins en tu panel de adminsitración.
Actívalo.
Accede a Pagos>Opciones>Redsys y rellena el formulario.
Usando FTP
Descarga el plugin
Descomprímelo
Usa un cliente FTP
Ve a wp-content/plugins
Sube la carpeta que contiene el plugin
Actívalo desde el panel de administración.
Accede a Pagos>Opciones>Redsys y rellena el formulario.
Get support at AppThemes forums
You need to purchase this item before reviewing it.
(Just bought it?
Log out
and back in to enable reviews.)