Coups Responsive & Customizable Child Theme For Clipper:
'Coups' is a clean, responsive and advanced clipper child theme with extended features. It's come up with 10 built in color schemes, which enhance to Clipper with new functionality.
Why "Coups" is advanced child theme!?
It's come with extended features (i.e Coupon Thumbnail, Countdown, Home Page Tabs, 3 Sliders, Ribbons, Dual Navigation & More ) and advanced theme option panel using option panel you can customize your website yourself up to the each tiny element, you have page layout options with many choices and colors.
You need to buy Sorted Filtered Coupons plugin separately it's not included in Coups
Layouts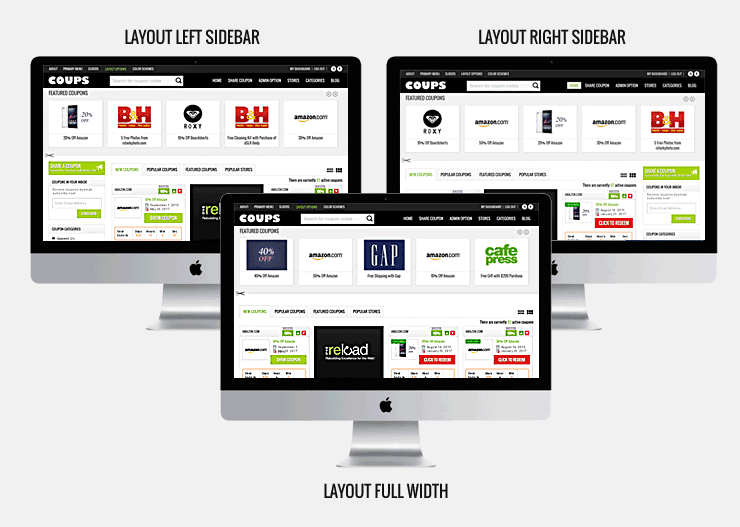 Extended Features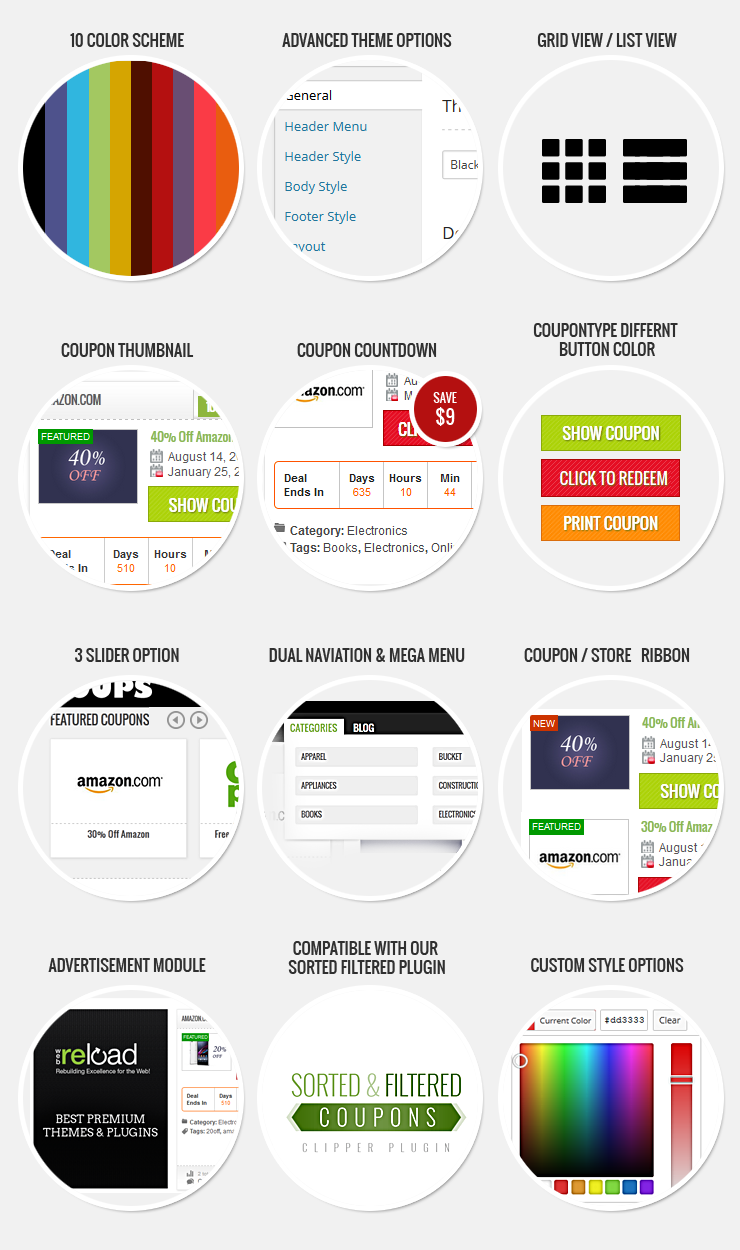 Significant Features In Details:
Clean, Flat & Responsive Design
10 Color Schemes Included

Black (Default)
Blue
Brown
Dark Yellow
Green
Light Blue
Orange
Pink
Purple
Red

Unlimited Color Schemes
Advance Theme Option Panel
Grid/List Mode
Coupon Thumbnail (Upload and display thumbnail instead of store images)
Home Page Tabs

New Coupons
Popular Coupons
Featured Coupons
Popular Stores

3 Sliders Options

Full Banner Slider
Full Featured Coupons
Default Clipper Slider

Dual Navigation

Header Top Menu
Primary Menu

Primary Menu Navigation Position

Below Logo
With Logo

Mega Menu

Stores
Coupon Categories

Page Layouts Options  For Home , Coupons Category page, Tags Page, Store Detail Page, Search Page , Coupon Type Page ,Coupon Detail Page, Archive Page, Blog Category Page, Blog Detail Page, Common Page, Stores Page Template, Categories Page Template

Left Sidebar
Right Sidebar
Full Width

Coupon Type Button Custom Colors Options

Coupon Code Button
Promotion Button
Print Coupon Button

Coupon Countdown Included (Save $9)

Coupon Listings Page
Coupon Page

Today Coupon Expire Page Template
Tomorrow Coupon Expire Page Template
Coupon Ribbon

Feature Coupon
New Coupon

New Store Ribbon
Advertisement Module
Custom styles
Compatible with Our Sorted Filtered Plugin You need to Buy it
Compatible with Clipper 1.6+ and WordPress 4.3 +
Installation Guide:
Using FTP
Extract zip file into this path: – /wp-content/themes/ directory.
Activate the theme through the 'Appearance' menu in WordPress.
Sub menu would be created for the theme option panel
You can manage theme options from Clipper → Coups Options.
Using WordPress dashboard
Go to appearance → Themes Install new theme
Select the Directory zip and upload it
Activate the theme
You can manage theme options from Clipper → Coups Options.
Support Policy
However it is important to us to make sure that every customer is satisfied with our products. Therefore we have a dedicated Support Team helping you to solve any products-related issues in timely and efficient manner.We are also very active on twitter or facebook where you can certainly catch our attention.
Before you reach us upon a problem?
Read the documentation guide for your theme and plugin.
Search the Support Forums for an answer.
Submit a new thread inside the forums or Email Us on info@reloadweb.co.uk in case the issue requires us to connect to your site this may happen those times when we feel more individual attention to your issue may be required. When we do direct you to our Email support system, we may ask you for your login details.
Support Hours
We don't have exact support hours, generally we can provide feedback on any support request within 12 or 24 hours. But note, that depending on the issue complexity and our workload. If we are online and able to provide you with support during the officially "holidays" period we will certainly not ignore you.
Support Offered
We only cover support for the Reload Web, add-ons,child themes and basic WordPress help. We cannot provide support on third-party plugins. we will try to help you with any type of requests including customization that requires only a couple lines of code changing, you must understand that we cannot provide extensive help in terms of modifications.
Moreover, technical support will always take priority over modification/customization requests.
Modification support
If your request for modification or customization help only requires us to publish a couple lines of code, we will be glad to assist you. If however you request requires more an that amount of code to be published, we can only provide guidance OR you can hire us if you don't have the skins to implement it yourself.
Bug Fixing
It is our commitment to fix all theme bugs as quickly as possible after they are brought to our attention. We will also try provide a solution via the forum for smaller bug fixes, after which we will update the core theme or plugin.
2.0 – 08/04/2019
Compatible with WordPress 5.0 and Clipper 2.0
1.1 – 07/04/2017
Compatible with WordPress 4.7 and Clipper 1.6.4
1.0.3 – 12/03/2016
Fixed – Social icon on blog listing and detail page
Fixed – author bio on detail page
1.0.2 – 14/12/2015
Compatible with WordPress 4.4 and Clipper 1.6.2
1.0.1 – 17/09/2015
Fixed – Coupon archive page pagination
Fixed – Duplicate field showing on registration form after WP 4.3
1.0.0 – 03/09/2015
Initial release
Compatible with WordPress 4.3 and Clipper 1.6+
Compatible with Sorted Filtered Coupons Plugin
3 reviews of "
Coups

"

You need to purchase this item before reviewing it.

(Just bought it?

Log out

and back in to enable reviews.)