COMPATIBILITY:
PRODUCT DESCRIPTION:
"clasifichados" is a fully responsive ClassiPress childtheme with a nice vintage look and feel. The childtheme is one of a kind with the newspaper classified design, responsiveness and SEO-optimized code.
The childtheme comes with an admin panel in the WordPress backend where you can configure the theme settings.
Because of the responsiveness of the theme, it's compatible with any mobile device, giving your visitors the best user-experience possible.
FEATURES:
– Vintage newspaper look & feel.
– Responsive ClassiPress childtheme.
– Infinite scroll (ads will load when at bottom of the page).
– Featured Ads more relevant.
– Improved blog posts list (archive, categories and tags) for better looking.
…and some more coming in next releases and updates.
TODO LIST FOR COMING UPDATES:
– Sort ads under archives.
Place your own ideas in product comments ("Comments" tab) for features you like to be added so we can study every case and elaborate it further with you.
CHECK THE CHILDTHEME:
1. ClassiPress HOME template »
2. ClassiPress LOGIN template »
3. ClassiPress REGISTER template »
4. ClassiPress PASSWORD RECOVERY template »
5. ClassiPress PASSWORD RESET template »
6. ClassiPress SEARCH RESULTS template »
7. ClassiPress ARCHIVE main »
8. ClassiPress ARCHIVE (categories) »
9. ClassiPress ARCHIVE (tags) »
10. ClassiPress AD (single) »
11. ClassiPress CATEGORIES template »
12. ClassiPress STATIC PAGE (with sidebar) template »
13. ClassiPress STATIC PAGE (full width) template »
14. ClassiPress AUTHOR template »
15. ClassiPress ERROR 404 template »
16. ClassiPress BLOG ARCHIVE (list) »
17. ClassiPress BLOG ARCHIVE (categories) »
18. ClassiPress BLOG ARCHIVE (tags) »
19. ClassiPress BLOG (single with image) »
20. ClassiPress BLOG (single with no image) »
For the next pages you'll need to be logged in.
You can create an account here REGISTER IN CLASIFICHADOS »
21. ClassiPress CREATE AD (3 steps) »
22. ClassiPress PURCHASE MEMBERSHIP (3 steps) »
23. ClassiPress EDIT AD template »
24. ClassiPress DASHBOARD template »
25. ClassiPress EDIT PROFILE template »
SCREENSHOTS:
Home…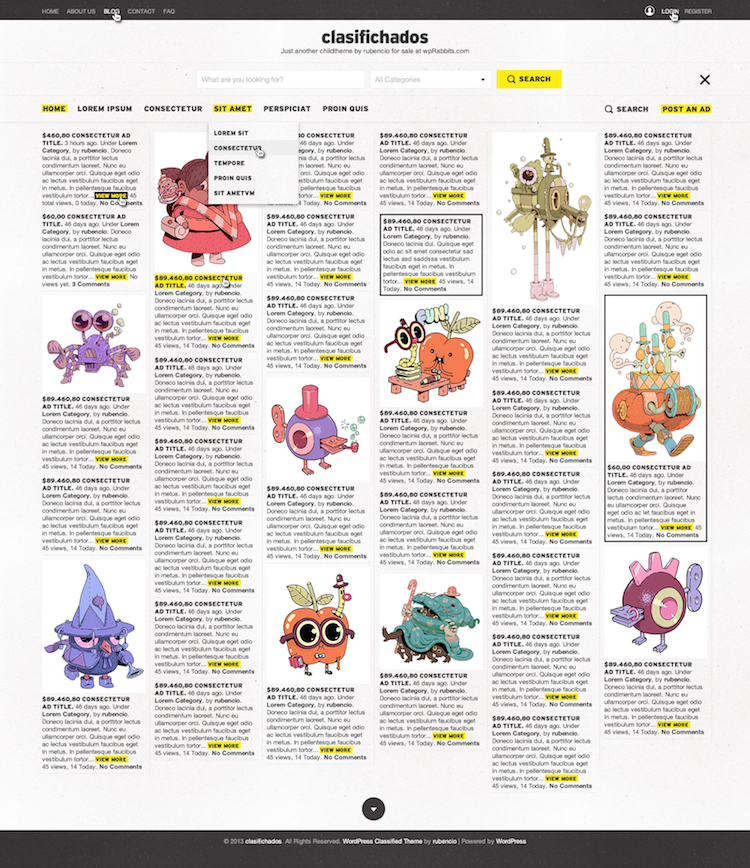 Categories…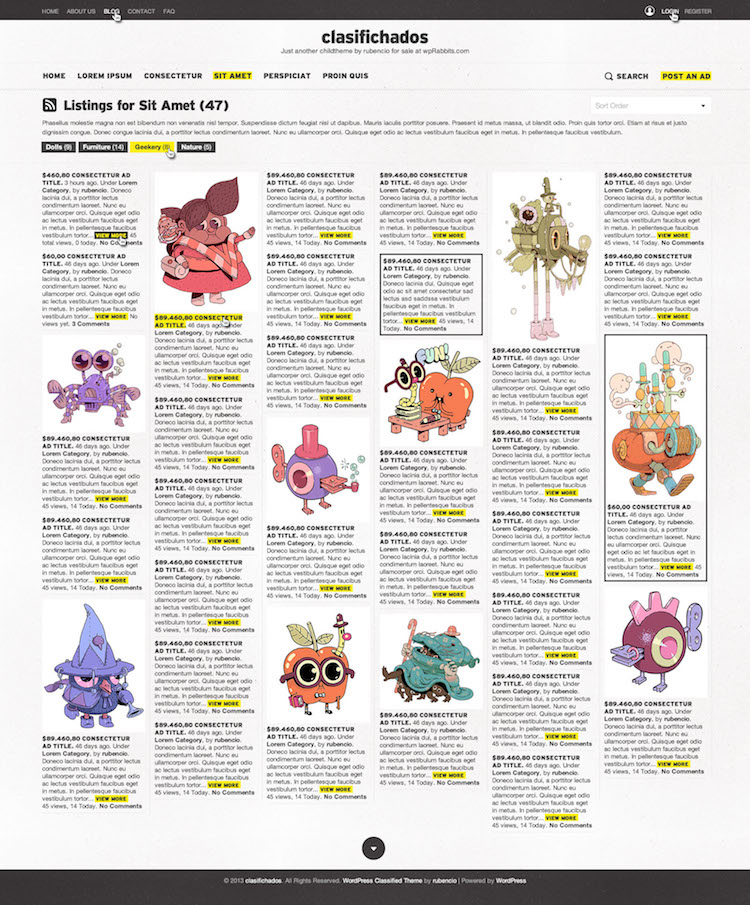 Single Ad…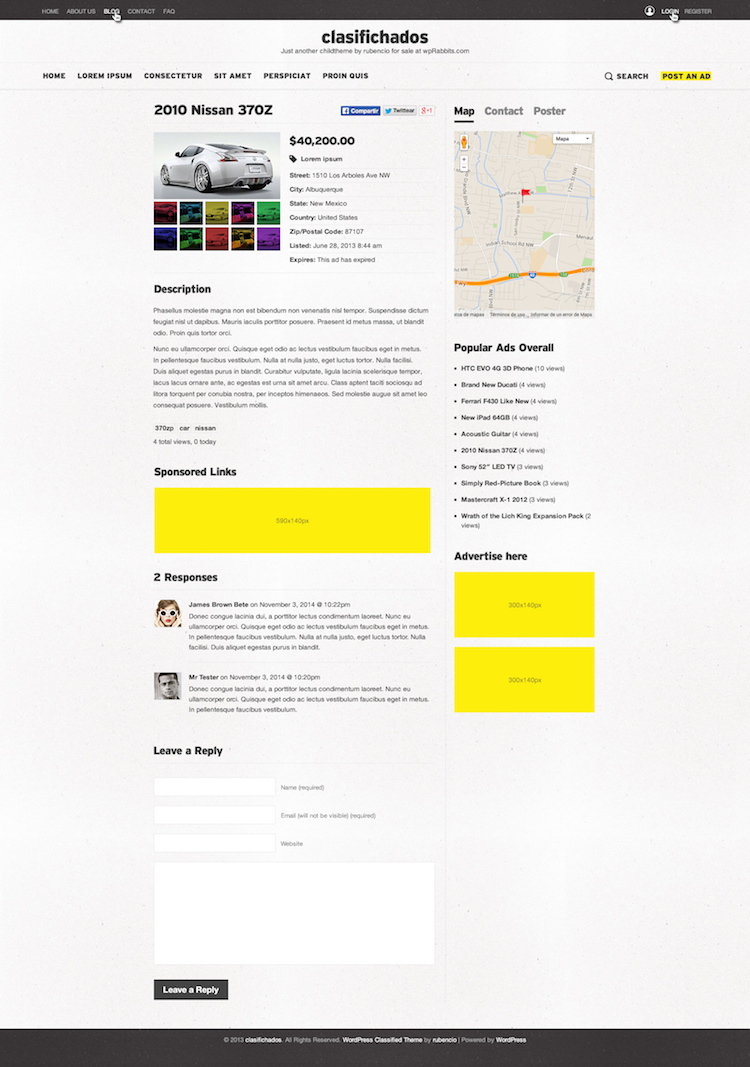 Blog List…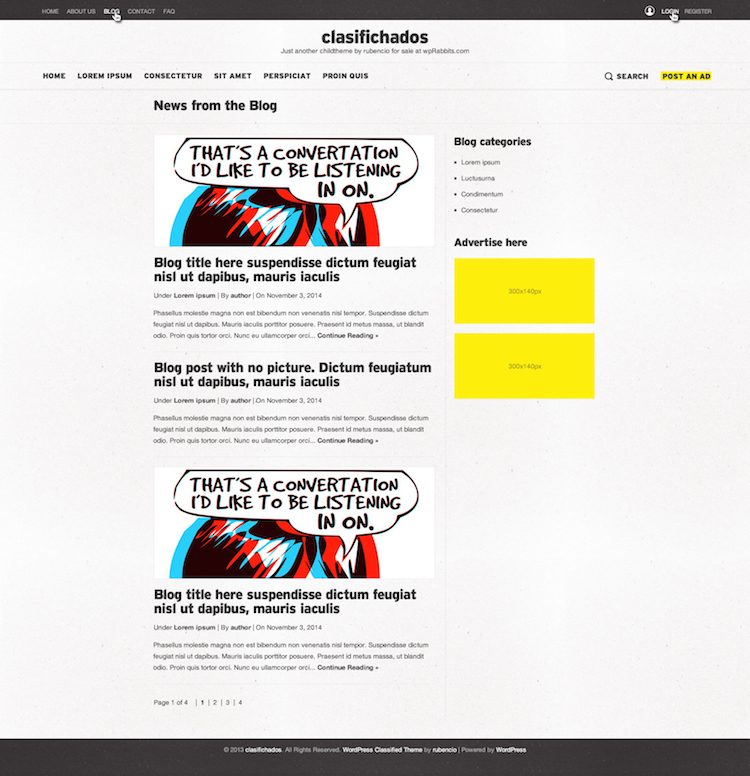 Blog Single…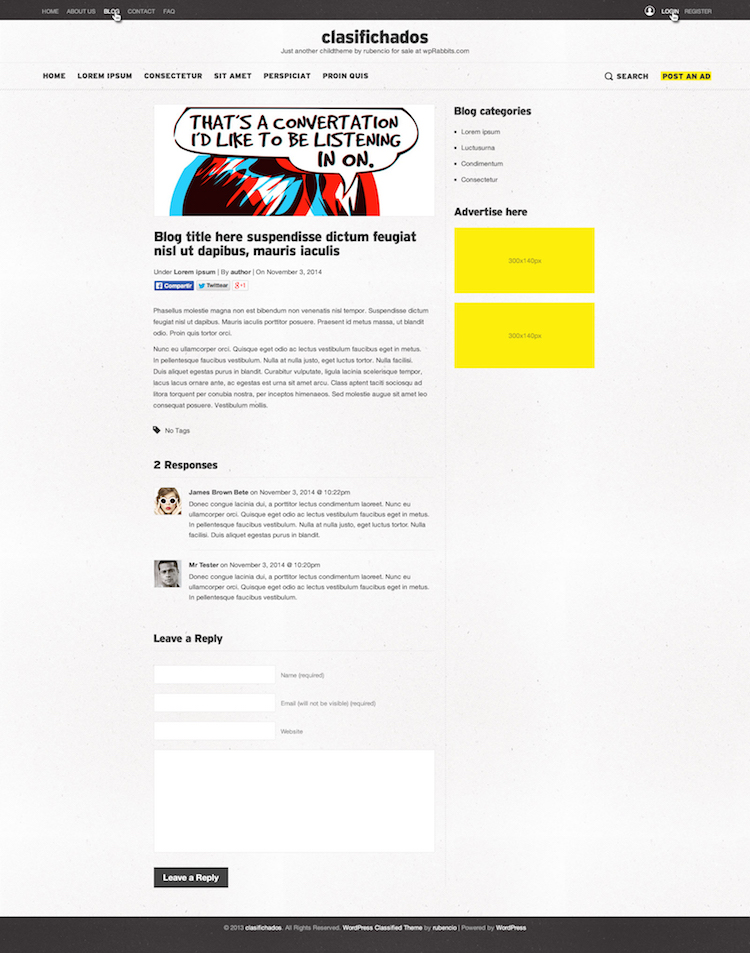 INSTALLATION INSTRUCTIONS:
1. Always make a full backup of your site.
2. Upload the childtheme to your themes folder.
3. Activate the childtheme.
4. Go to your "ClassiPress/Settings" and under "Advanced" tab check "Turn off all styles (advanced users only)".
5. Set the sidebars or rearrange them the way you need.
– For sites with previously published Ads you'll need to regenerate your thumbnails. To achieve this, simply use Regenerate Thumbnails free plugin.
HOW TO GET SUPPORT?
Please visit the dedicated forum.
CHILDTHEME CHANGELOG:
v1.0 – March 11th, 2015. Initial Release.
v2.0 – April 16th, 2016. ClassiPress 3.5.4 compatible.
v2.1 – June 23rd, 2016. ClassiPress 3.5.5 compatible + Improvements.
v2.2 – July 10th, 2016. ClassiPress 3.5.7 compatible + Bugs fix.
5 reviews of "
Clasifichados

"
I fell in love with this theme the moment I saw it. Old fashioned newspaper classifieds style cannot be found on the net. When your visitor arrives at your site, this theme will leave a DEEP impression. Your visitors will NEVER forget your site!
Support at 1:30 am? If you are dealing with Rubencio, yes! I had some issues with installation and adjusting the styles, Rubenico worked on my site from 1:30am to 2:00 am HIS time and took care of everything.
You need to purchase this item before reviewing it.
(Just bought it?
Log out
and back in to enable reviews.)