COMPATIBILITY:
PRODUCT DESCRIPTION:
"bluRabbit" is a lightweight & responsive ClassiPress childtheme. The theme really stands out with it's clean UI and design. It provides a very user-friendly design which results in a great user-experience.
"bluRabbit" is fully responsive and compatible with any device.
FEATURES:
– Fresh bold black & blue design.
– Responsive Classipress child theme.
– Social sharing on single ad and blog pages (Twitter, Facebook, Google+)
– More relevant featured ads.
– Ad Categories integrated as a new tab in home page.
– Improved blog posts list (archive, categories and tags) for better looking.
… and some more coming in next releases and updates.
TODO LIST FOR COMING UPDATES:
– Grid/list switcher.
– Sort ads under archives.
– Boxed or full-width layout.
Place your own ideas in product comments ("Comments" tab) for features you like to be added so we can study every case and elaborate it further with you.
CHECK THE CHILDTHEME:
1. ClassiPress HOME template »
2. ClassiPress LOGIN template »
3. ClassiPress REGISTER template »
4. ClassiPress PASSWORD RECOVERY template »
5. ClassiPress PASSWORD RESET template »
6. ClassiPress SEARCH RESULTS template »
7. ClassiPress ARCHIVE main »
8. ClassiPress ARCHIVE (categories) »
9. ClassiPress ARCHIVE (tags) »
10. ClassiPress AD (single) »
11. ClassiPress CATEGORIES template »
12. ClassiPress STATIC PAGE (with sidebar) template »
13. ClassiPress STATIC PAGE (full width) template »
14. ClassiPress AUTHOR template »
15. ClassiPress ERROR 404 template »
16. ClassiPress BLOG ARCHIVE (list) »
17. ClassiPress BLOG ARCHIVE (categories) »
18. ClassiPress BLOG ARCHIVE (tags) »
19. ClassiPress BLOG (single with image) »
20. ClassiPress BLOG (single with no image) »
For the next pages you'll need to be logged in.
You can create an account here REGISTER IN BLURABBIT »
21. ClassiPress CREATE AD (3 steps) »
22. ClassiPress PURCHASE MEMBERSHIP (3 steps) »
23. ClassiPress EDIT AD template »
24. ClassiPress DASHBOARD template »
25. ClassiPress EDIT PROFILE template »
SCREENSHOTS:
Home…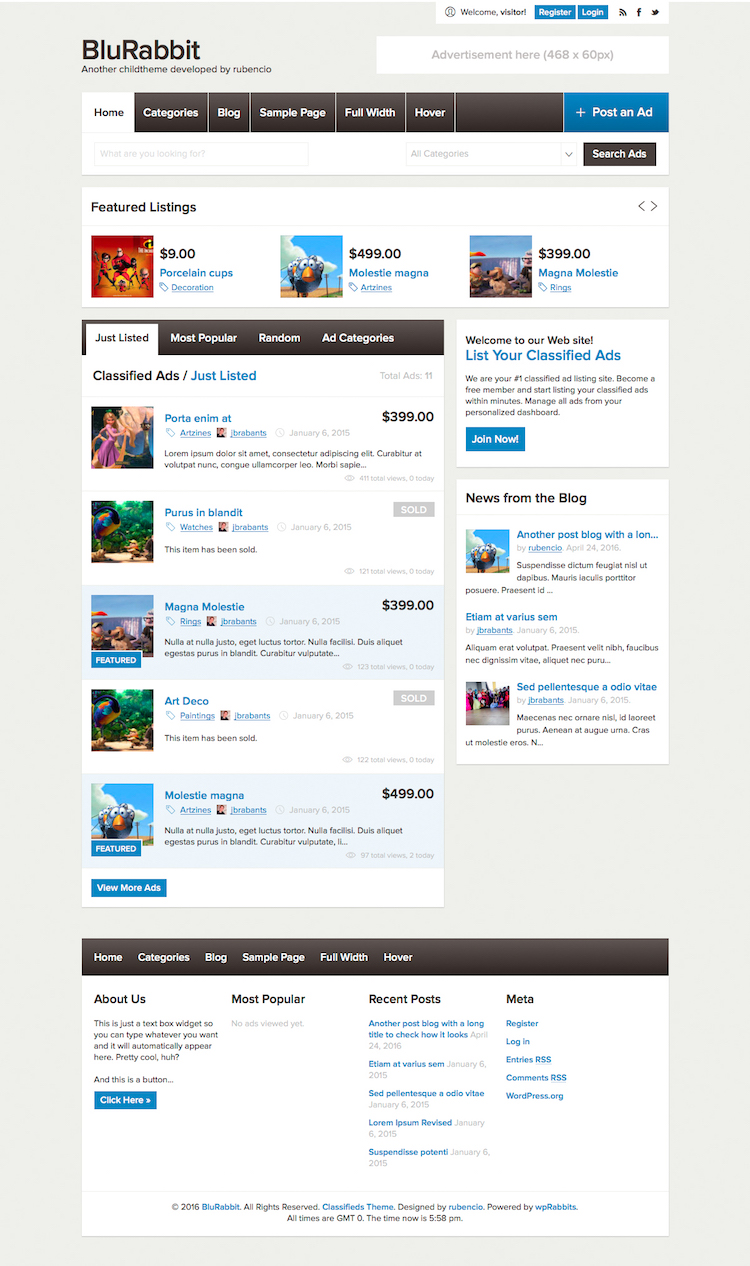 Ad Categories…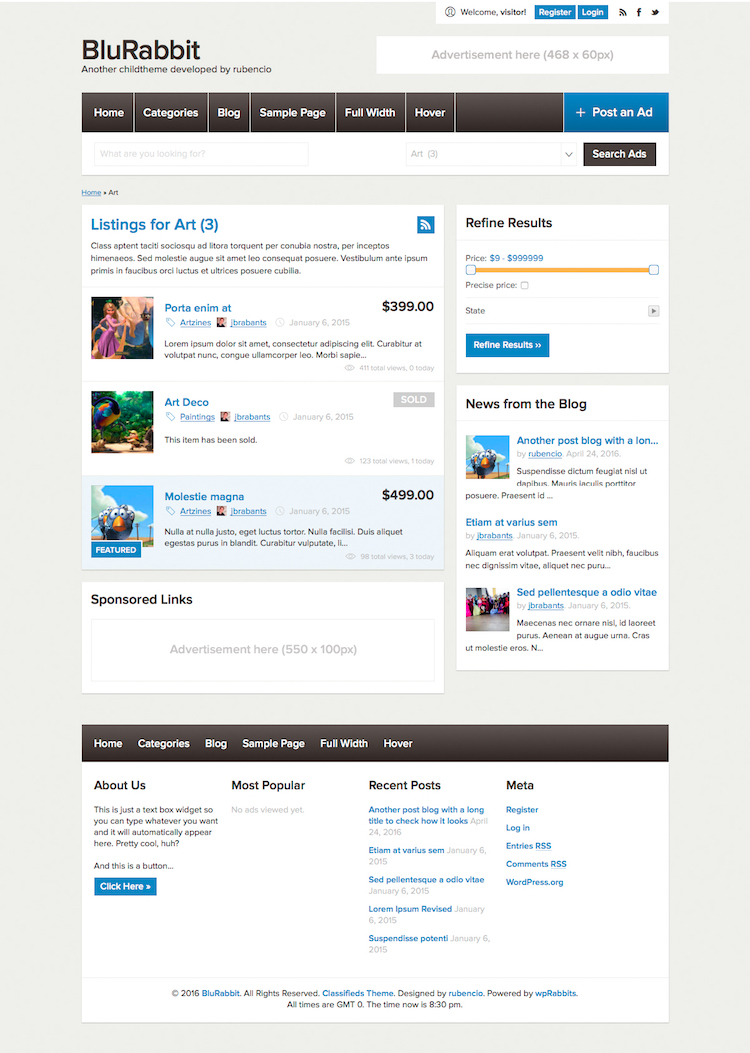 Categories Page…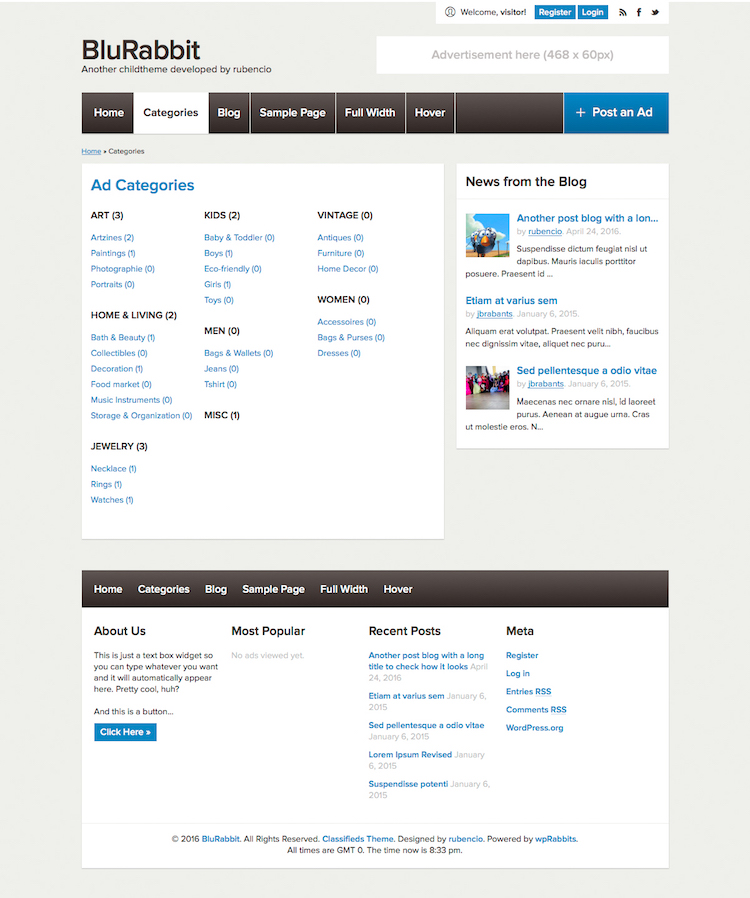 Blog List…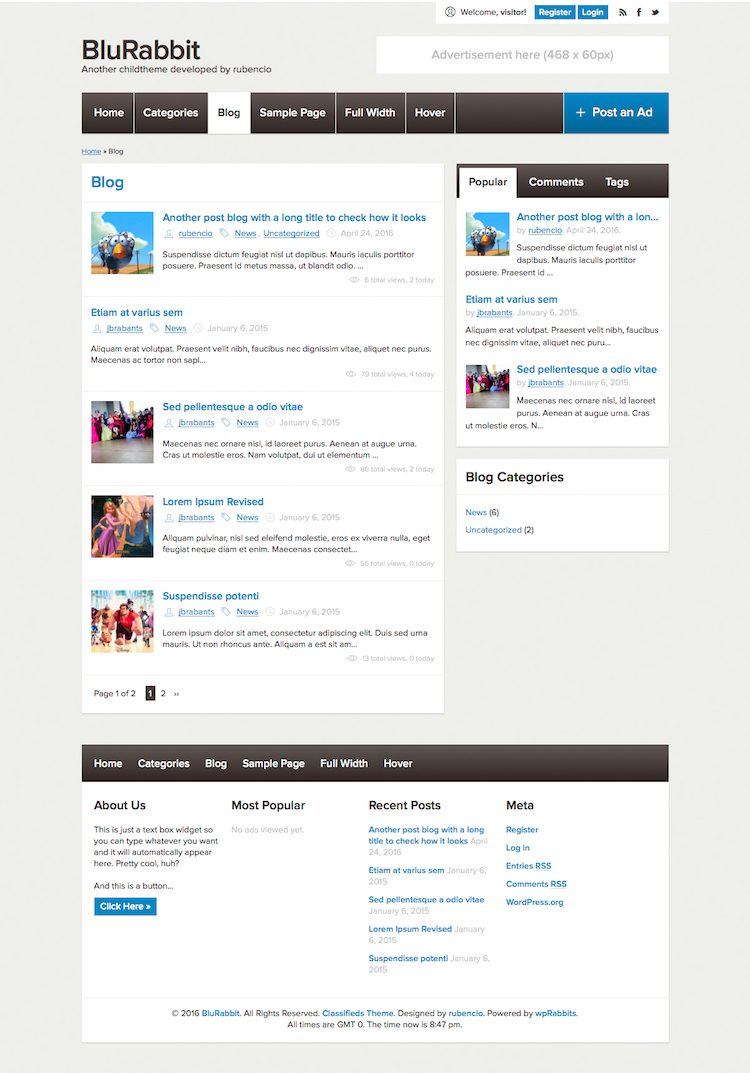 Blog Single…

Ad Archives…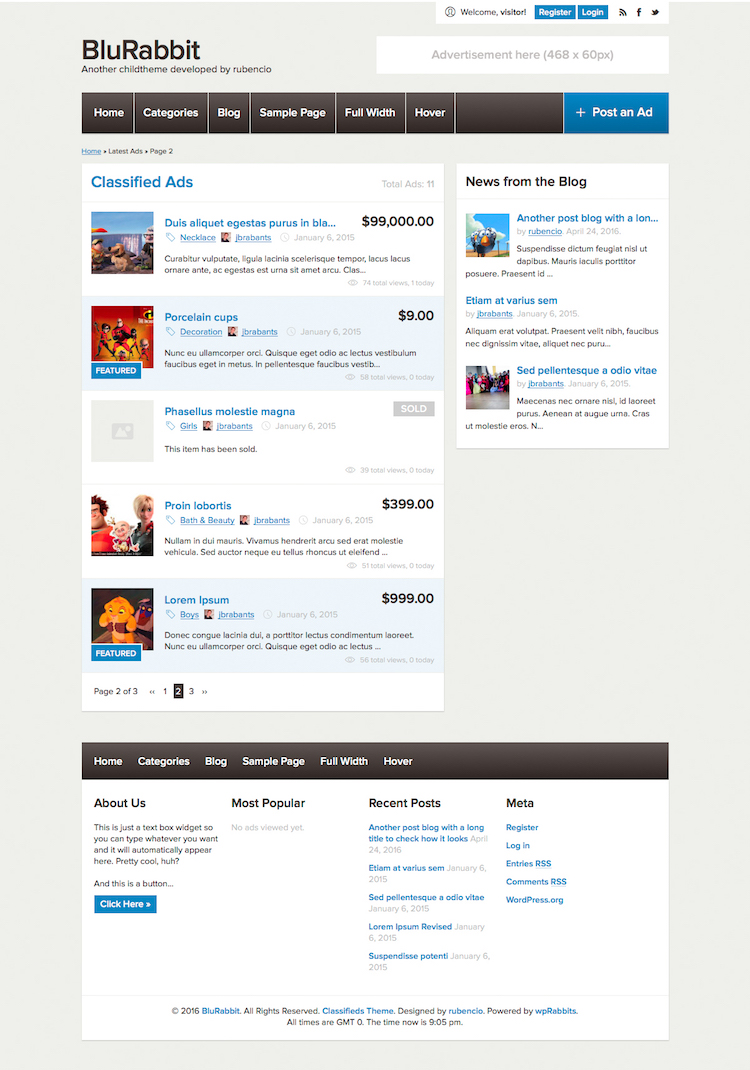 Ad Single…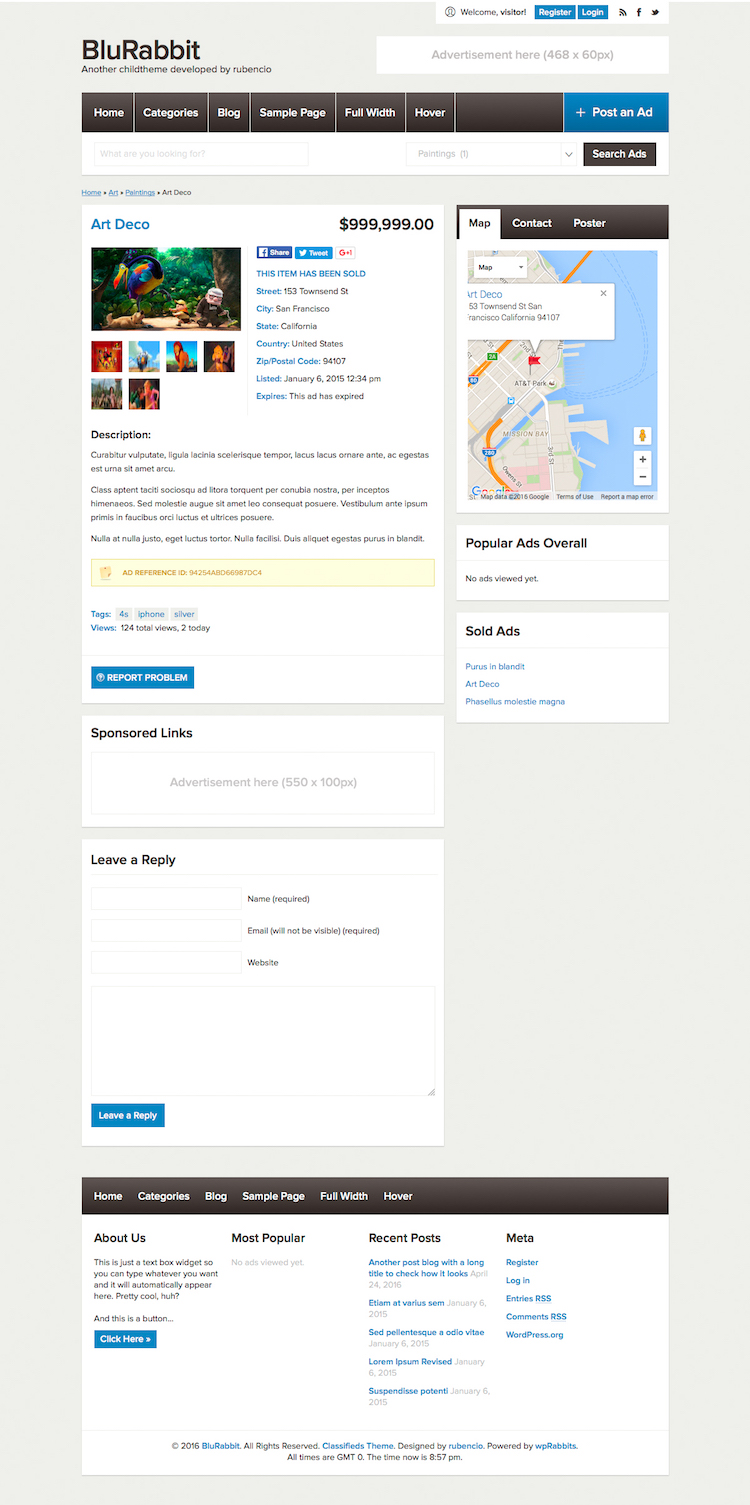 INSTALLATION INSTRUCTIONS:
1. Always make a full backup of your site.
2. Upload the childtheme to your themes folder.
3. Activate the childtheme.
4. Go to your "ClassiPress/Settings" and under "Advanced" tab check "Turn off all styles (advanced users only)".
5. Set the sidebars or rearrange them the way you need.
– For sites with previously published Ads you'll need to regenerate your thumbnails. To achieve this, simply use Regenerate Thumbnails free plugin.
HOW TO GET SUPPORT?
Please visit the dedicated forum.
CHILDTHEME CHANGELOG:
v1.0 – January 6th, 2015. Initial Release.
v2.0 – April 24th, 2016. ClassiPress 3.5.4 compatible.
v2.1 – July 2nd, 2016. ClassiPress 3.5.6 compatible.
You need to purchase this item before reviewing it.
(Just bought it?
Log out
and back in to enable reviews.)