v1.1 released
Two colors now built in: orange and blue.
Rebuilt single listings with full width images.
TwinPress Classifieds
Ultra-clean, responsive & Multi-site ready
A clean, flat, two-color Classipress child-theme with subtle background textures.
Will work by itself or as part of a network.
This is part of a larger effort to run multiple AppThemes side-by-side using the WordPress network interface.
Save 20% by purchasing the TwinPress Bundle
We've built all of our child-themes around the same minimal design and have inserted a new menu at the top of the page to allow easy switching between themes.
The style sheets have been divided by color so with a little knowledge of CSS you may create your own color swatches (or you could ask us nicely to create one for you).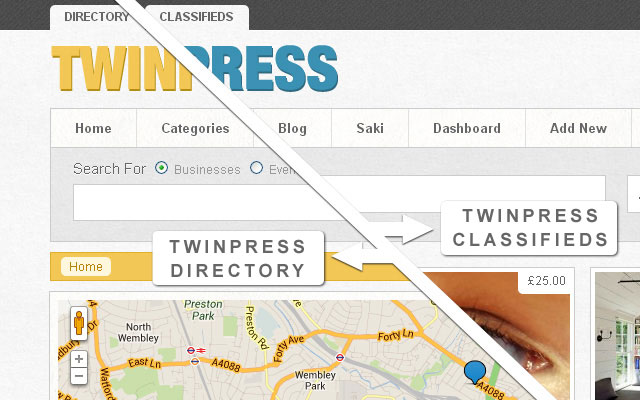 Features
Clean and responsive design.
Multisite ready.
Content has been completely rebuilt at 1140px to accommodate larger screens.
Newly formatted featured slider (no more errors when resizing).
New top menu for navigation between sites.
Google map shifted to page content to help buyers immediately see how to purchase.
High levels of support
Let us know what you think of our themes and what we could do to improve them. We're in this for the long haul and will be pushing out free updates to all purchasers.
Compatible with:
Classipress: v3.3
Wordpress: v3.5.2
Please note: This is a child-theme and requires a license for Classipress
Installation
If you're setting up a Wordpress network please do this first, instructions may be found here.
Make sure Classipress is installed correctly.
Install the TwinPress Classifieds child theme by navigating to 'themes > add new > upload', browse to your 'twinpress_directory' zip file and upload.
Navigate to 'appearance > themes' and activate. (If you're running a network you will need to make the theme visible through 'network admin' first).
Theme options:
Navigate to 'classipress > settings > advanced' and check 'disable core stylesheets'.
We've built in two default colors: 'orange' and 'blue'. These can be selected by changing line 12 of the 'style.css' file. The easiest way to change this is through 'appearance > editor' (Or if you're running a WordPress network: 'Network Admin > themes > editor')
Once the child theme is activated navigate to 'settings > media' and adjust 'Medium image' to 805 x 400px.
Please note: If you have images already uploaded you will need to regenerate thumbnails for this to take effect.
v1.1.2 [11th Jan 14] – Minor Release. Various bug fixes
v1.1.0 [16th Sep 13] – Major release. Updated single listings. 'Blue' and 'Orange' color schemes now available.
v1.0.16 [24th Aug 13] Hotfix, search results not displaying correctly
v1.0.15 [21st Aug 2013] Minor improvements and tweaks. Breadcrumbs fix and slider now starts automatically
v1.0.11 [15th Aug 2013] Initial launch
2 reviews of "
TwinPress Classifieds

"

You need to purchase this item before reviewing it.

(Just bought it?

Log out

and back in to enable reviews.)